See you at the Dinner!
Monday, September 25, 2017
About #BVStrong
The 4th Annual #BVStrong Community Dinner will be Monday, September 25, 2017 at 5:30 pm. Join your friends and neighbors at dinner down the middle of Main Street, with the majestic Collegiate Peaks as our backdrop.
We are a community that's diverse in opinions and ideas; yet on this night, we focus on all we have in common as we eat together at one table. We embrace the people we love and celebrate those we've lost, cheer our accomplishments, and anticipate the return to "just us" as the summer season winds down.
All are welcome, and there's a seat for everyone at our table. Our beautiful views are surpassed only by the beautiful people who call BV home!
"Just dinner."
The simple mission of the BV Strong Community Dinner Planning Team is, "Just dinner!" We strive to create a locally-funded and locally-organized annual activity where the residents of Buena Vista come together in a nonpolitical, noncommercial, non-promotional event to share food and friendship as we celebrate and nurture a sense of community.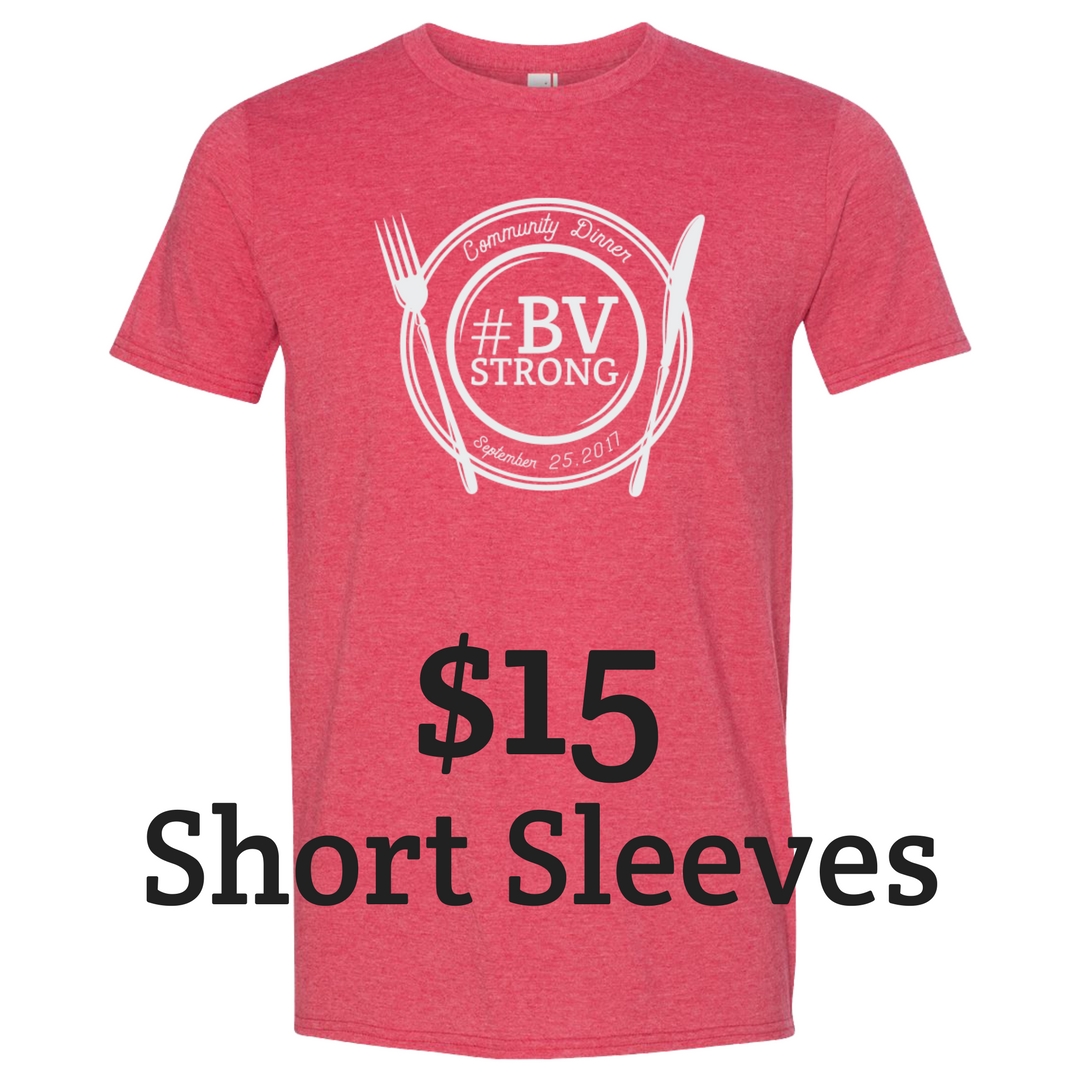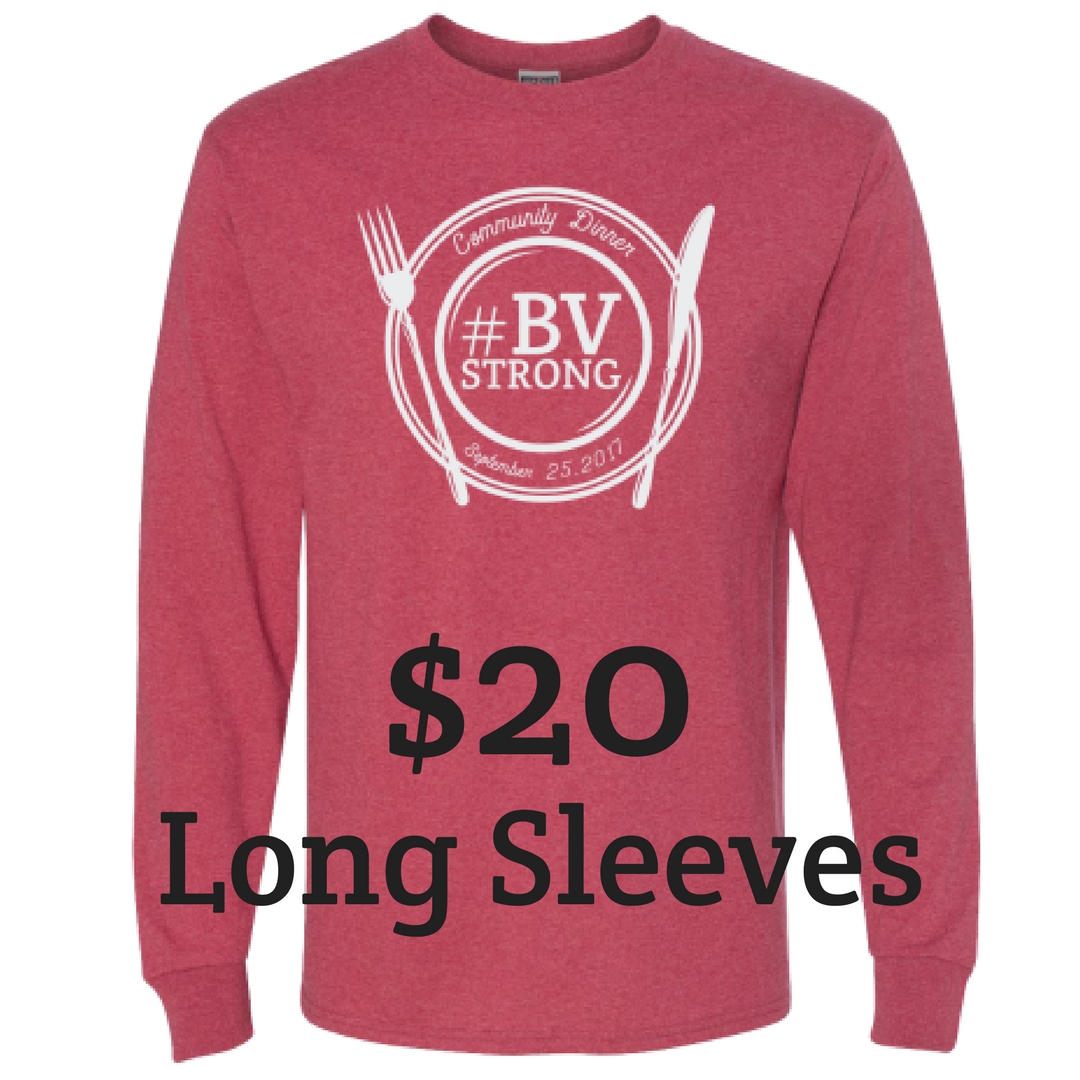 T-Shirt Fundraiser
Show your BV pride sporting this red heather cotton tee in either short sleeves ($15) or long sleeves ($20) in adult and youth sizes. All proceeds go directly to the BV Strong Community Dinner. 
Orders placed before September 18 will be available for pick up in the Pinion Room at the Community Center, 710 E Main Street, on the following dates:
Saturday, September 23, from 11:00 am to 3:00 pm
Sunday, September 24 from 1:00 pm to 5:00 pm
There will be a very small number of shirts available for purchase at the Community Center on the dates above, on a first-come, first-served basis (no holds, please). 
Orders placed after September 18 will be available for pick up after the Dinner, at a time and place to be announced.
Click here to be directed to another site to select your style and size, and securely complete your online purchase using Visa, MasterCard, American Express, or Discover via PayPal (you do not need a PayPal account).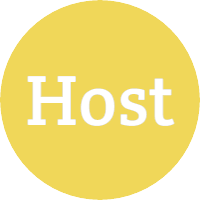 Each table has a host who welcomes guests and provides place settings and side dishes.
GIVE
The dinner is FREE to attend for all our guests! This is only possible through generous donations from your fellow neighbors and local businesses right here in BV. 
Your gift will be used for such expenses as table and chair rentals, providing the main course, and other set-up costs such as table signage and paper covering.
photo credit Aaron Atencio, used with permission
Give Online
Online gifts are tax-deductible. This fund is managed by ColoradoGives.org, a program of the Community First Foundation. GIVE HERE
Give Locally
Donations are accepted locally at High Country Bank, 516 US Hwy 24 N, Buena Vista, 81211. Please make checks payable to "BV Strong Community Dinner."
ALL TABLES HAVE BEEN RESERVED
We encourage you to talk to your neighbors, friends and coworkers to find available seats. You can also use our Facebook group to find seats. 
Table Hosts fill their table with 8 guests and provide these items for their table(s): 
Tableware: plates, silverware, napkins, cups, etc.
Salad, side dishes, dessert, drinks, BBQ sauce, etc. 
We also ask Hosts to bring a permanent marker to decorate their centerpiece, and a large trash bag to clean up your table. 
Printable Invitation 
Table hosts, please click here to download a printable invitation you can give to your guests. There's space for your contact information and you can write in anything they've offered to bring to the Dinner. Table numbers can be filled in after they're provided on September 21. 
Seating over 3,000 neighbors at over 400 tables takes an epic team of volunteers. Please consider donating your time to help coordinate the dinner, set up and tear down after the event. Teams are need for food prep, tables and chairs, logistics, promotion, and more! 
If you'd like to help, please submit this interest form. 
Sign up to receive updates about the #BVStrong Community Dinner