Stronger than ever!
Mark your calendars, invite your friends, and plan your menu! The 10th Annual BV Strong Community Dinner will be Monday, September 18, 2023 from 5:30 – 7:00 pm.
Sign up to volunteer now. Your tax-deductible donation is always welcome and very much appreciated. 
10th Annual BV Strong Community Dinner, 9/18/2023
"Just dinner."
The simple mission of the BV Strong Community Dinner Planning Team is, "Just dinner!" We strive to create a locally-funded and locally-organized annual activity where the residents of Buena Vista come together in a nonpolitical, noncommercial, non-promotional event to share food and friendship as we celebrate and nurture a sense of community.
GIVE
The dinner is FREE to attend for all our guests, and there is no cost to host a table! This is only possible through generous donations from your fellow neighbors and local businesses right here in BV. 
Your gift will be used for expenses such as table and chair rentals, sanitation, table signage, and other set-up costs.
There are no paid sponsorships or paid staff for BV Strong; it is funded entirely by anonymous donations and organized by local volunteers. The BV Strong Community Dinner is a 501(c)(3) non-profit public charity, and your gifts are tax-deductible. 
THANK YOU! Please make checks payable to "BV Strong Community Dinner."
ONLINE
Secure online donations are accepted through PayPal. Click here to give online:
IN PERSON
Drop off donations at:
High Country Bank
516 US Hwy 24 N
Buena Vista, CO 81211
BY MAIL
Contributions may be mailed to:
BV Strong Community Dinner
PO Box 5264
Buena Vista, CO 81211
Table Reservations open August 2023
There is no charge to host a table at BV Strong! Table Hosts provide food and drinks and fill their table with guests – and if you have open seats at your table, we will introduce you to new friends who are looking for a place. We encourage you to have your guests help with the meal to embrace the true community aspect of the Dinner (and make it a little easier on our remarkable Hosts). 
Table Hosts provide the following:
Hand Sanitizer

All food and drinks

All tableware including plates, silverware, napkins*
* TIP: Please bring reusable tableware to reduce waste!
BV Strong will provide:
Table and 8 chairs
White tablecloth
Garbage bag and recycling
Reusable bag for each host
Fun, excitement, and community!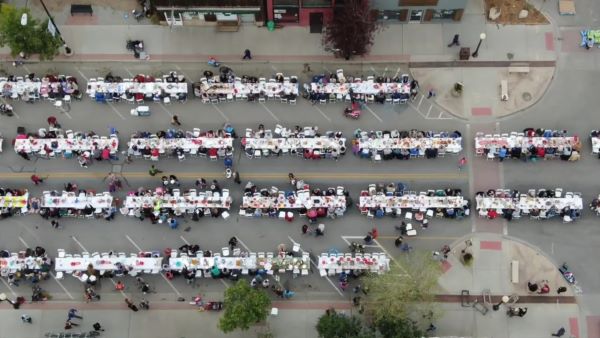 There's a seat for everyone at BV Strong! We encourage you to talk to your neighbors, friends and coworkers to find available seats. You can also use our Facebook group to find seats – just post what you need, and someone will reply with an invitation. It's pretty neat, but that's just how BV Strong works.
Help at #BVStrong
Seating thousands of neighbors at hundreds of tables takes an epic team of volunteers! Please consider donating your time to help with special projects, set up before the dinner, and tear down after the event.
Please join our Facebook group for ongoing information about helping at BV Strong.
Special Projects
Special projects will be posted at our Facebook group as needed. We also have an email list where you can receive updates. Sign up below!
Set Up
Set up is on Main Street on Monday, September 19, at 1:00 pm. Volunteers unload tables and chairs and place them according to our map. We will also place a bag with information on each table.
Clean Up
Clean up begins at 7:00 pm, so feel free to stick around after dinner! Volunteers carefully stack chairs and return tables to the delivery trucks. We also make sure no trash is left on Main Street.
Sign up to receive updates about the BV Strong Community Dinner.